Check out the NEW Graphics View Cube in Mastercam 2024!

---
Mastercam 2024 has many new features. This one is the one you'll first notice when launching into 2024, the Graphics View Cube aka the GView Cube!
The use of this cube is fairly straight forward. Likely you'll be able to figure it out in a few minutes just by clicking and playing around with it. But, there are some goodies hidden in there we should talk about.
Left clicking any of the faces, edges, or corners, will align your view normal to that item. This is very useful for clicking on non standard views. You can also double click on the cube to perform a Fit. This double click will not change the orientation, it will only do a Fit.
You can also left click and hold on an edge to rotate about that edge. We were not able to move a model like this previously in Mastercam with a mouse only.
The arrow buttons work with normal clicks as well as holding ALT and clicking. The ALT clicks will rotate, normal clicks will move left/right or up/down.

The rotate button, lots of options for clicking normally or holding SHIFT or CTRL with and without ALT.

Creating a Dynamic Plane by clicking the gnomon works as it has in previous versions. Just be sure to click on one of the legs of the gnomon, avoiding the cube. Alternatively, you can right click on the cube and choose Create Dynamic Plane.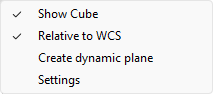 If you prefer to turn the cube off, you can do so from the above mentioned right click option. You'll find a Settings menu in here as well where you can customize the look of the cube.
Last thing I mentioned in the above video, new for 2024 is holding the SHIFT key while zooming in and out with your middle mouse wheel. This increases the speed of the zoom by about 10x. A very nice addition for 2024.
Hope you find both these additions useful!
---
Want to learn more about Mastercam? Check out;
camInstructor for Teachers - Independent Learners - Students
---