Finishing off the Tesla Cybertruck with 4 videos on solid modeling in Mastercam. Check out the end of the last video for a special peak at whats coming!

---
These videos pickup right where the wireframe video (Part 1) left off.
The first solid modeling video (Part 2) goes through the main solid extrusion, some level management, extra geometry creation for some solid extrude cuts, creating planes to define the direction of an extrude cut, modifying geometry colors, swapping between 2D and 3D drawing modes, and adding to an existing solid tree feature.
The second modeling video (Part 3), some more level management as things do get a bit busy on-screen, geometry and plane creation for the windows which involves the use of Offset Chains, Transform Project is used to bring flat geometry onto our angled faces, and finally the extrude cuts which will include some draft angle just for aesthetics.
The third modeling video (Part 4) starts with some more geometry creation for the extrude cut needed for the truck bed in which I use the 2D drawing mode, Offset Chains. Line Parallel, and finally the extrude cut with no draft this time. Next I do some editing of the location of the wheels for the part. Initially they looked a little out of place, Dynamic Transform makes quick work of getting these into a better position. Lastly, some more wireframe creation to complete the wheel well sections and then extrude add boss to add the wheel well solid to the main body.
The fourth and final modeling video (Part 5), yet some more geometry creation for the wheel well flares. We'll only create the geometry on the one side and then Translate a copy to the other side of the truck. Next, a straight extrusion to add these flares as bosses to the main solid body, then adding some solid chamfers to these flares, followed by another chamfer on the front grill. Finally, I'll show you how to edit the resulting solid so you can safely use the Model Prep functions on it without damaging all the work you've just done.
As mentioned, stay tuned for the Rocket Powered Tesla Cybertruck I'm working on!!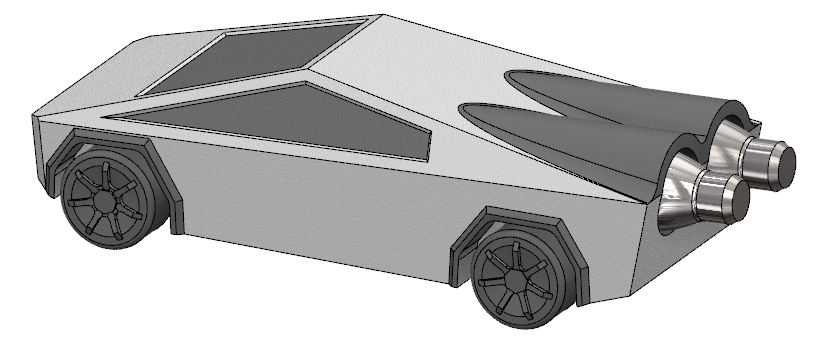 ---
Want to learn more about Mastercam? Check out;
camInstructor for Teachers - Independent Learners - Students
---