These 15 little icons can save you hours of work in Mastercam...

---
Mastercam Quick Masks can be used to speed up object selection. There are times when you want to select a specific type of entity in the graphics area, this is where Quick Masks can help.
There are several types to choose from...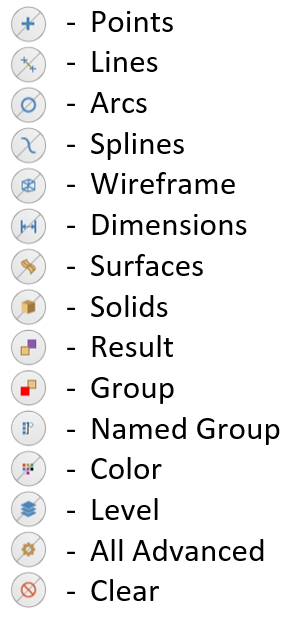 All but the Group types have a top and bottom half which can be selected for a different type of selection for that mask. The top half is Select All of that type, this will automatically select all visible of the selected type in the graphics area, and a Select Only. This will require you to start picking entities of which you will only be able to select those of the chosen mask type.
Multiple Masks can be used at the same time, for example, you could turn on Select Only Wireframe and Select Only the Color orange. You could then windows select a bunch of different graphic items and only orange wireframe would be selected (assuming there is orange wireframe there to select).
The buttons on screen are pretty straight forward to use. Keep in mind the All Advanced options though. When using this Mask, there are a lot more options for masking such as Dimension types, Solid Types, Surface Types, Line Width, Line Style, Diameters, Length, Depths...which can all be combined to further refine the selection.
If you find yourself selecting and interacting with graphic entities often, Quick Mask can be a huge time saver for you .
Also, there are several other blog posts that deal with graphic entitles and their selection, here are links to those posts...
---
Want to learn more about Mastercam? Check out;
camInstructor for Teachers - Independent Learners - Students
---